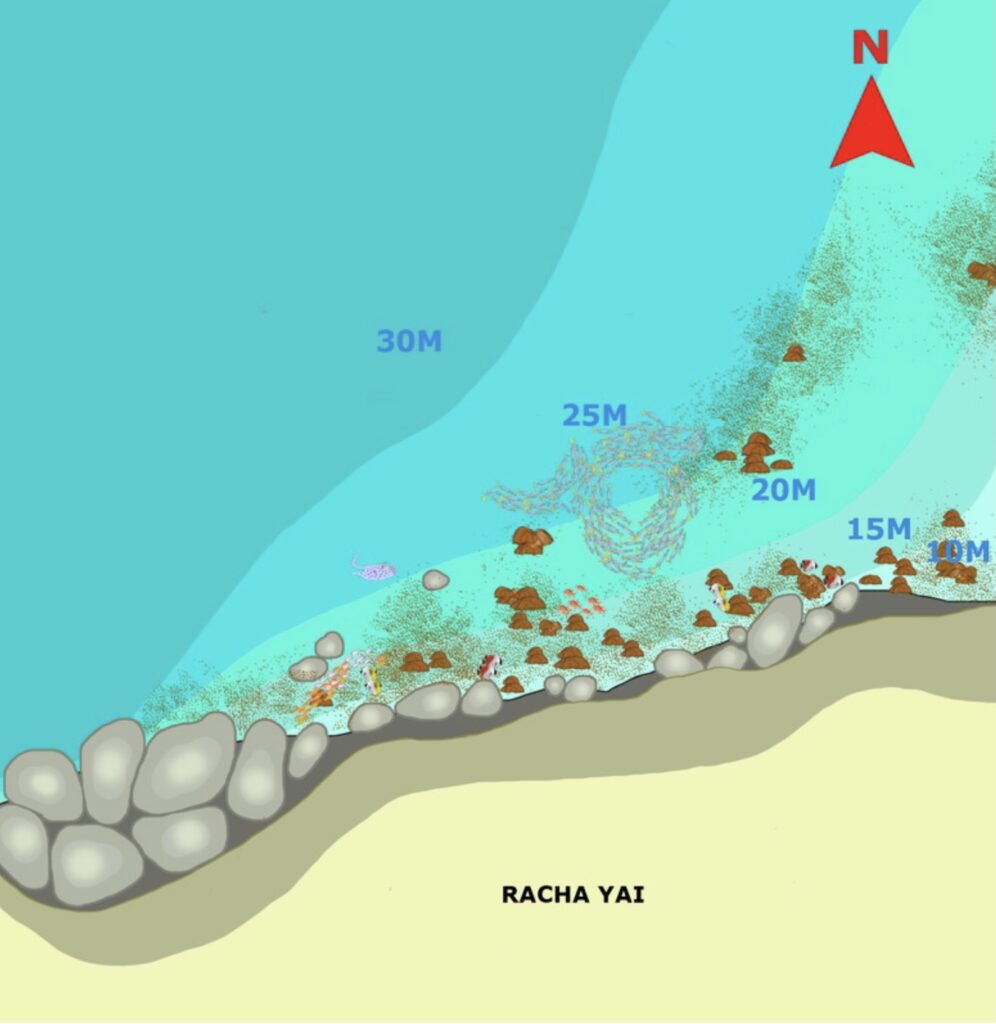 Bungalow Bay Dive Site
Bungalow Bay is characterised by a deep curve and both sides are excellent for scuba diving or for scuba training dives. The northern side of the bay is a reef slope with staghorn corals and small rock outcrops ranging from 5m to 22m of depth, ends with a sandy bottom. The southern side of the bay is covered with staghorn and pore corals, and has several gigantic rocks along the edge of the island.
Marine Life
Reef fish such as parrot fish, snapper, grouper, angelfish, butterfly fish and basslets are common. At the shallow waters the unusual shrimpfish are sometimes found in schools. Divers may also find some of the rarer creatures such as leaf fish and ghost pipefish and sometimes whale sharks. It´s good for beginners and advanced divers.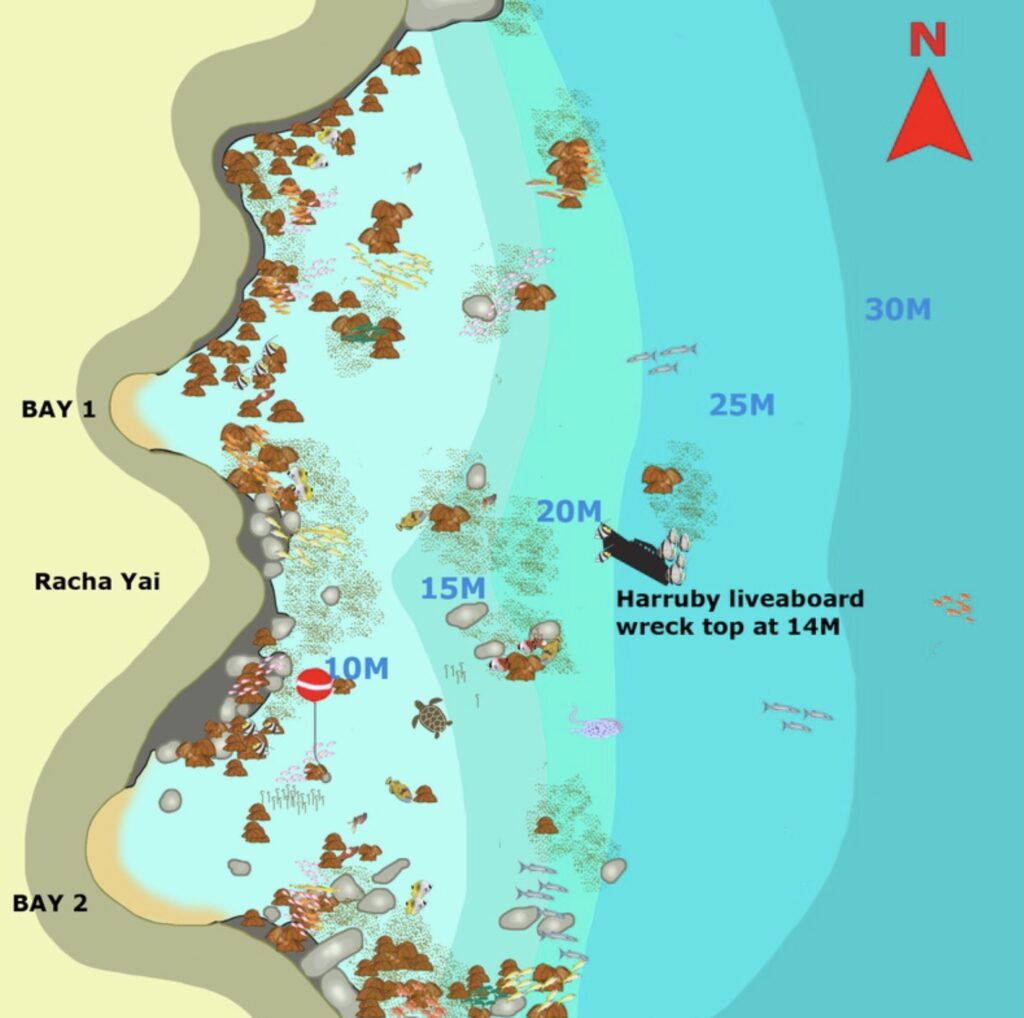 Bay 1-2 Dive Site
Bay 1 has a very small beach, which is easily missed. There are pore corals heads scattered along the entire stretch of this bay, occasionally interrupted by a patch of staghorn coral. The reef starts from a depth of 5m and goes to as deep as 20m before hitting the sandy bottom. The largest beach is located at Bay 2. While it also has an abundance of coral heads and branch corals – hence it's name, Staghorn Reef. The reef starts from a depth of 12m and slopes down to a depth of 30m.
Marine Life
Reef fish such as parrot fish, snapper, grouper, angelfish, butterfly fish and basslets are common. Divers may get to see trumpet fish swimming by the side of groupers. Advanced divers can enjoy with wreck diving at 25m where they can spot giant morays and batfishes. It´s a good training dive site for the PADI Tec 40 course.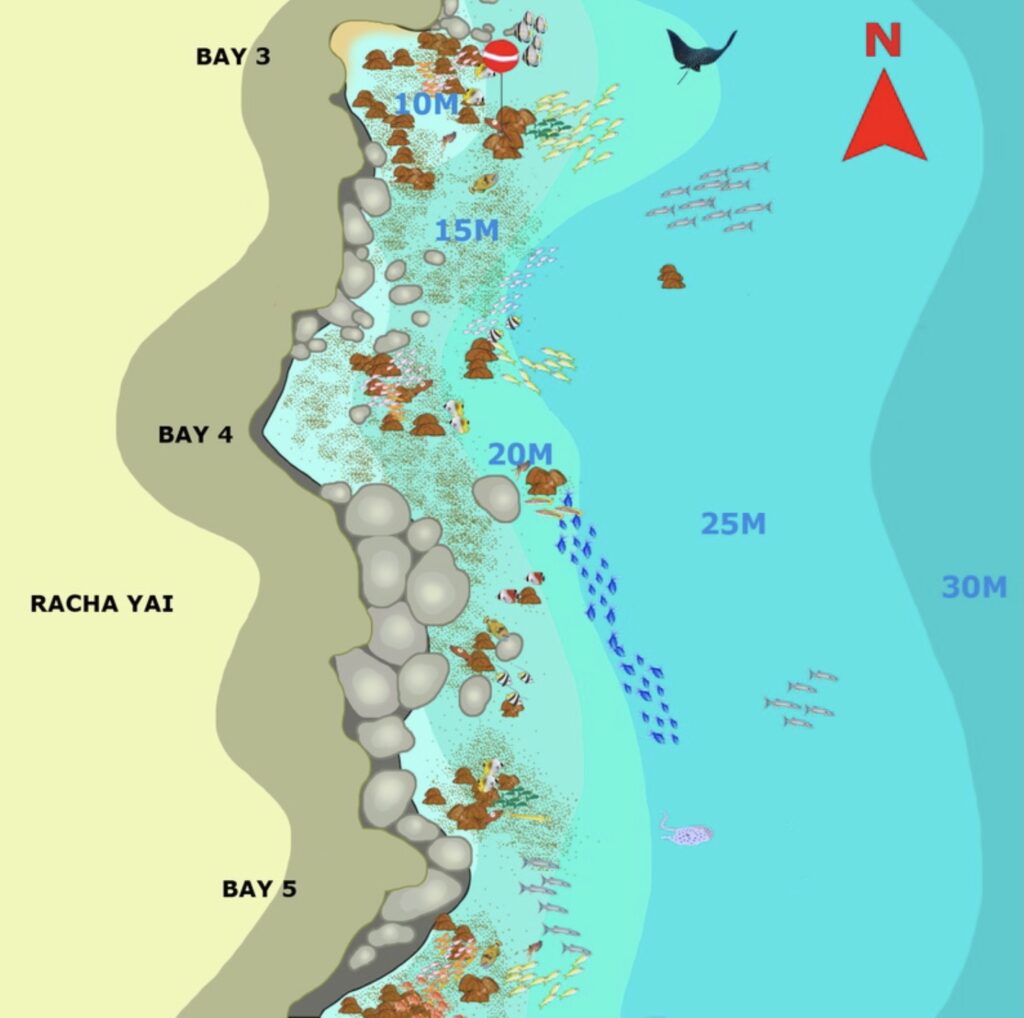 Bay 3-5 Dive Site
On bay 3 – Lucy's Reef, consists mainly of rocks and pore corals, and is separated by a rock-ridged border at the south end of the reef. The sudden change from hard coral and rocky bottoms to sandy bottom is a good indication that you have entered Bay 3. In Fact, apart from brief smattering of pore corals and some coral heads in the shallower waters, Bay 3 has mostly sandy bottom.
Bay 4-5 – Waterfall Wall, returns to the reefs of hard coral. It has more slope than Bay 3 and is also formed by a wider variety of coral. Waterfall Wall is a miniature version of Staghorn reef, but also with more variety of corals such as anemones. Be especially careful when you dive here, as it is a complex current – the current can suddenly switch the direction around the middle of the reef!
Marine Life
The usual reef fish such as parrot fish, snapper, grouper, angelfish, butterfly are common. Cornet fish are also spotted regularly. Box fishes and blue spotted box fish are usual for this area. A rare thornback boxfish, as well as an impressive seamoth, have been spotted at the sandy bottom. Away from the reef, schools of yellowtail barracuda are often seen around. Big eyed trevally are also found in big school near the reef. Close to the reef in shallow water sometimes divers can observe reef sharks.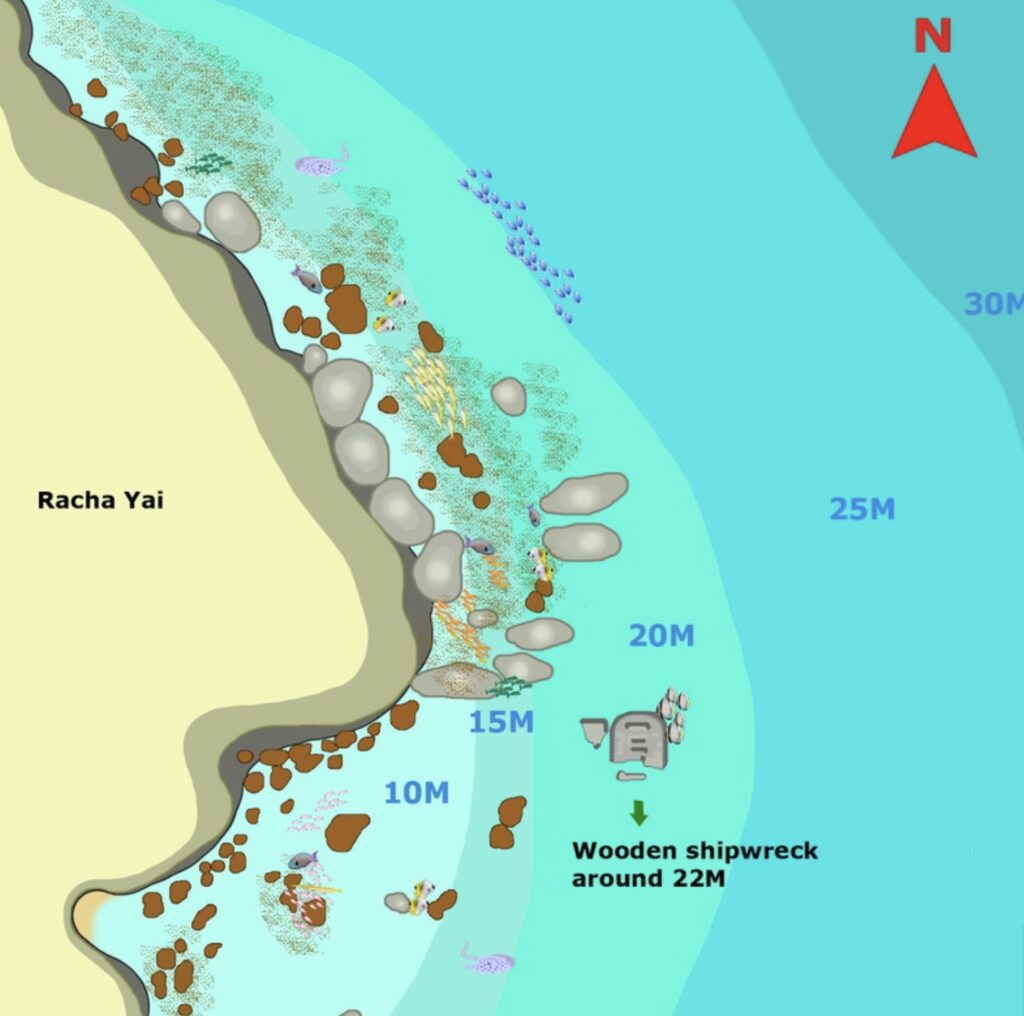 Home Run Reef Dive Site
Most of the reef is covered with hard corals like staghorn coral, branch coral, and pore coral with rocks scattered in-between. The steepest slope is at a depth of 12m-15m, with the rest ranging from 15m-25m and ending in a gently sloping sandy bottom. Due to the current conditions, a one-way dive is more practical and likely more enjoyable. This is the perfect dive site for drift divers.
Marine Life
Reef fish such as parrotfish, butterflyfish and basslets are common. Comet fishes are sometimes found hiding in cavities or in the space between branches of staghorn coral. Trumpet and cornet fish often camouflage themselves and stay close to the staghorn coral. Great Barracuda are also common sightings here. Look carefully under the rock and you can spot reef octopus and sea snakes.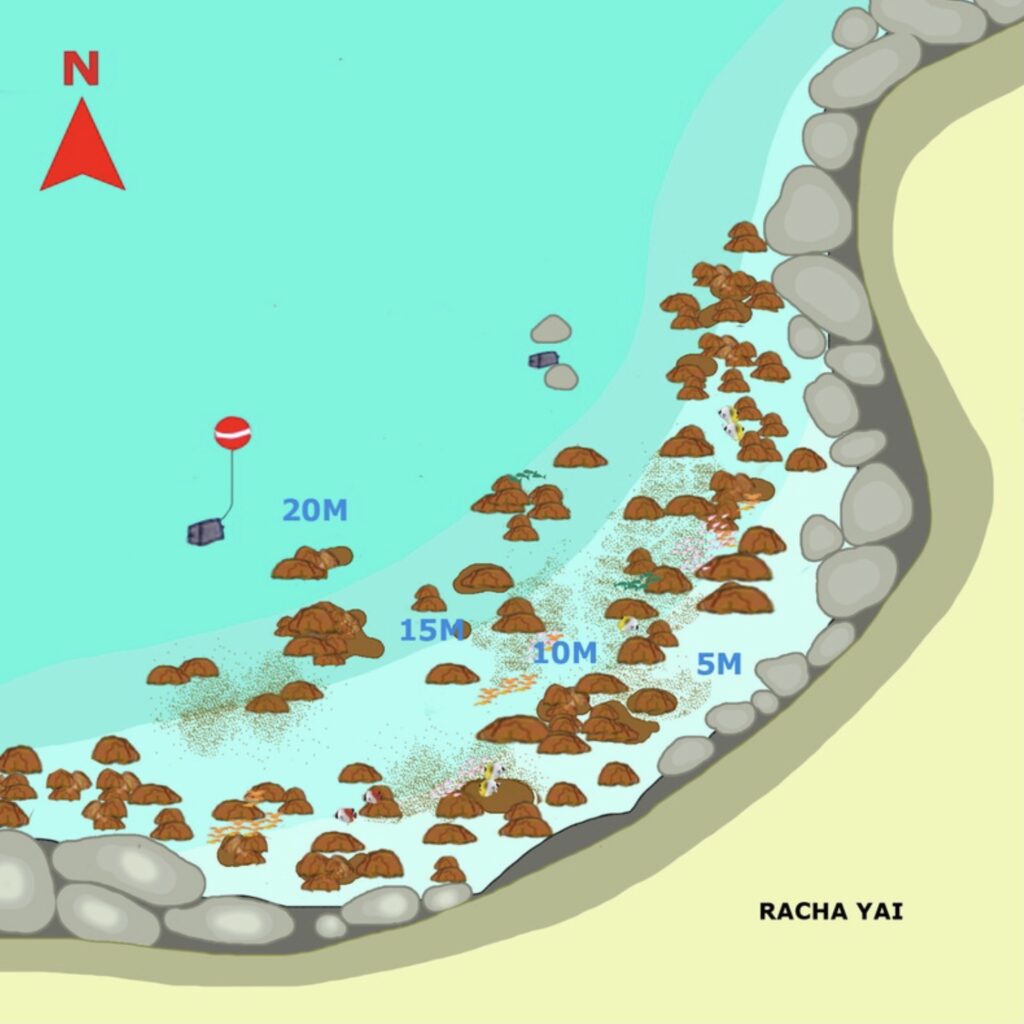 Siam Bay Dive Site
Siam Bay lies to the north of Racha Yai Island with an average depth of 12m-18m. The corals scattered around the bay are mostly hard coral, and some big pinnacles can be seen along the island edge on the east side of the island. This is an ideal site for beginners.
Marine Life
Parrotfish, butterflyfish and basslets are common. Cuttlefish and stingrays are often found at the sandy bottom. At night, Siam bay is a heaven for macro lovers. Small crabs and shrimps can often be found on top of corals, in crevices and inside feather stars.